One of my stops while I was in New York last week was the New York Transit Museum, which is in an old subway station in Brooklyn. Many of the old subway and elevated cars that are normally parked on the lower level had been moved out to run on fan trips all summer (this being the 100th anniversary of the opening of the first subway line in New York), so instead they brought in some not-so-old cars that have only recently been retired from the system. Including this one: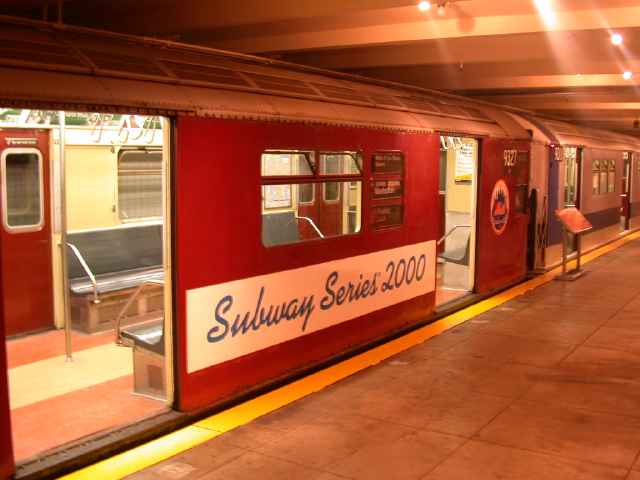 Yes, there's a Yankees logo on the other end of the car, but the platform wasn't wide enough for me to get a picture of the entire car. Besides, I would see plenty of Yankees logos at Yankee Stadium.
When I arrived at the stadium from the subway, wearing my Devil Rays shirt and cap, I ended up walking around the stadium the "wrong" way looking for the ticket booths. At the press/game personnel entrance, one of New York's finest stopped me and said, "You look like a big fan," then asked me who Paul Olden was, since he had just come in. I eventually remembered he was their radio play-by-play announcer. He was the TV broadcaster for the Yankees in the mid-1990s, but perhaps the cop was actually a Mets fan in disguise.
At any rate, there were plenty of good seats left for this game, now that the Devil Rays were no longer the hottest team in baseball. Here's the view I had:
Yes, you can smell the history at Yankee Stadium, or maybe that was just in the men's room. I completely forgot about going to Monument Park on my way in, so I had to settle for taking pictures from across the field. Also, I guess Adidas has enough money that they can print up a different bullpen awning for every visiting team: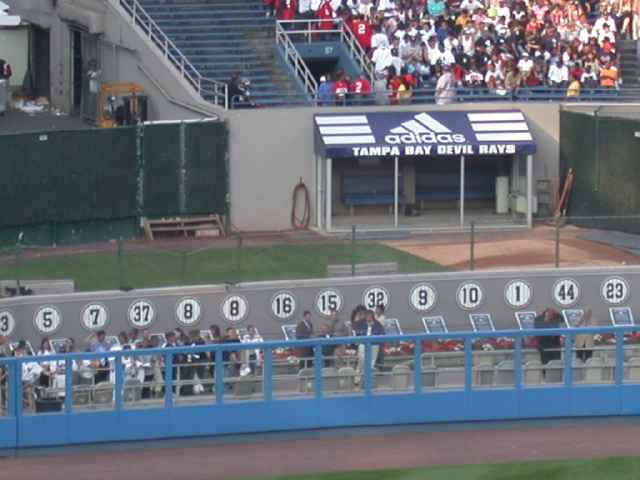 Now, here's the sacrilegious part: because certain people had to work Thursday night, I was at the game alone; when I'm at a game alone, I try to keep up my scorekeeping skills. At Yankee Stadium, you had to buy the $7.00 magazine to get a scorecard, which I expected because of their evilness. (Surprisingly, though, they serve good and pure Coca-Cola instead of evil Pepsi.) One of the articles, written by Keith Olbermann, was about how no one can remember who the P.A. announcer for Yankees was before Bob Sheppard took over in 1951, not even Bob Sheppard himself. These days, he doesn't even do the between-inning promotions, just announces the starting lineups and does some of the other announcements at the beginning of the game, and then announces the players during the game. Problem is, I found him a little bit hard to hear and understand, especially his first announcement of each half-inning where he was usually talking over music. It's probably a combination of the P.A. speakers all being in center field, plus his 136-year-old voice. Vin Scully, who is almost as old, has the benefit of going through radio and/or TV audio engineering.
Also at the game, by the way, were former New York Giants quarterback Phil Simms (who got a lot of applause) and current Tampa Bay Buccaneers coach Jon Gruden (who got no applause because they showed him briefly on the Diamond Vision screen but didn't put his name on the scoreboard, so I may have been the only person who noticed him and recognized him). I saw only two other people wearing Devil Rays merchandise. I was asked a couple of times if I was from Florida. "Originally," I said both times. The man sitting next to me asked if I knew why Fred McGriff only had two home runs for the season, so I attempted to explain the whole sordid story.
Anyway, here, have some more pictures. Anyone want to translate the orange-and-white ad here, which I assume is for the benefit of people in Japan watching Hideki Matsui?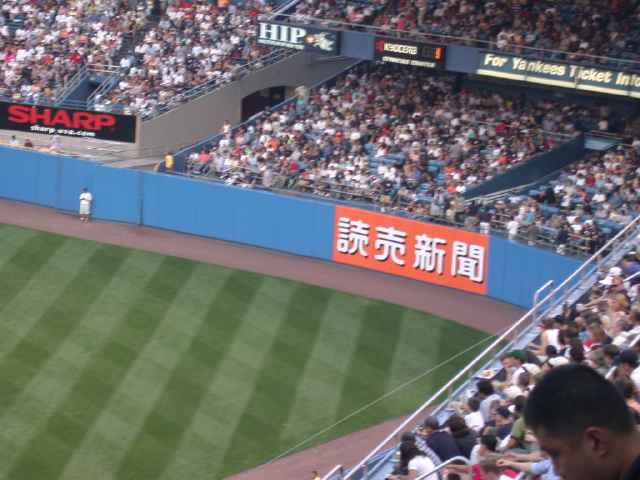 And anyone want to translate the "F" and "G," or perhaps "FG," on the out-of-town scoreboard? It's hard to see because I didn't take this picture until after dark, but there is a column of single-digit numbers available under each letter, which weren't used at any point. Until I hear differently, I'm going to assume it stands for "Faraway Games."
They still make the groundskeepers do "YMCA"!
The Number 4 wins the subway race!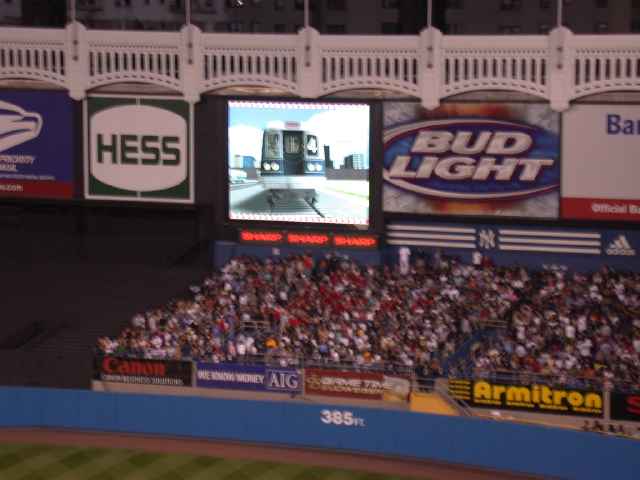 Speaking of which, this isn't necessarily a baseball-related story, but people who know me may find it amusing: on the way back from the game, I had to change trains at 59th Street-Columbus Circle. So picture me, wearing a Devil Rays shirt and cap, on a subway platform with dozens of people wearing Yankees shirts and/or caps, so I perhaps looked less like a New Yorker than every other person there. Nevertheless, two people came up to me and asked about getting to Penn Station. I'm beginning to think my reputation is preceding me. (Yes, I did know the right answer, more or less. I didn't realize it was as late as it was, so I told them they could either take the local C on the outside track or the express A on the inside track, whichever came first, but in the late-night hours, the A runs local instead of the C, so what showed up first was an A on the outside track. The people I had helped had wandered off, so I didn't see if they managed to figure it out or not. Yes, the New York subway is somewhat more complicated than, for example, the Chicago 'L'.)
Later, waiting for the light to change at the corner of 48th Street and 8th Avenue, a man asked me if I knew where the strip clubs were. But that's another story.
The final line, on the Yankee Stadium scoreboard (and note that, although they have enough money to make a "Tampa Bay Devil Rays" awning, they don't have enough money to put in a scoreboard with enough characters available to allow a space between "Tampa" and "Bay"):
Here's the headline from the Daily News. Really, the difference in the game was that Victor Zambrano was shaky at the beginning, and Jose Contreras wasn't.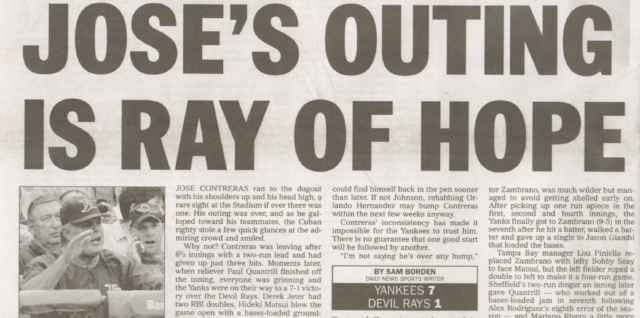 And the front page. I wonder how many people know what that thing between "Daily" and "News" is supposed to be, now that they're "New York's Hometown Newspaper" instead of "New York's Picture Newspaper." Why, they don't even own WPIX-TV anymore. But the good news is that, since both New York teams have baseball-shaped logos, it makes for a nice layout balance.
Later, in Connecticut, I saw The Ballpark at Harbor Yard, home of the Bridgeport Bluefish. You get a very nice long view into the stadium as you're on a train that's decelerating into the Bridgeport train station, it turns out, but there wasn't a game going on as I was preparing to detrain in Bridgeport.
Original comments…
Dan: I believe I read somewhere it's an ad for a Japanese newspaper (Yomiuri Shimbun?)
Luke: FG = First game?
Levi: I bet the guy who asked you about the strip clubs had been hoping to run into Mo Vaughn, but in Vaughn's absence, he turned to you.
Steve: I find it hard to believe nobody knew who Jon Gruden was. During the football season they cut over to him on the sidelines more than any other coach.
maura: victor, not carlos, zambrano. but don't worry, people make that mistake all the time.
Jim: Well, Carlos Zambrano would have been shaky at the beginning, too, if he'd been there.
maura: a handy mnemonic: the 'v' in victor stands for 'get out of the way, because there's a good chance he'll hit you.'
DrBear: Yup, FG is for first game. You kids may be too young, but us old-timers remember when teams used to play two games in one day! The old scoreboard at County Stadium in Milwaukee had the same thing as G1, even including it at the end of the linescore for the Braves/Brewers game.