While we're waiting for Levi to regale us with tales of cute, furry kittens insinuating his dreams, here are some pictures from the two baseball games I went to over the past few days. Jason had some Dodgers vouchers to use up before the end of the season, so he, Cathryn, and I went to the Dodgers-Padres game last Thursday…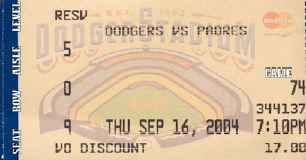 The colored seats at Dodger Stadium, a picture taken because who knows when they're going to decide to put in new chairs?…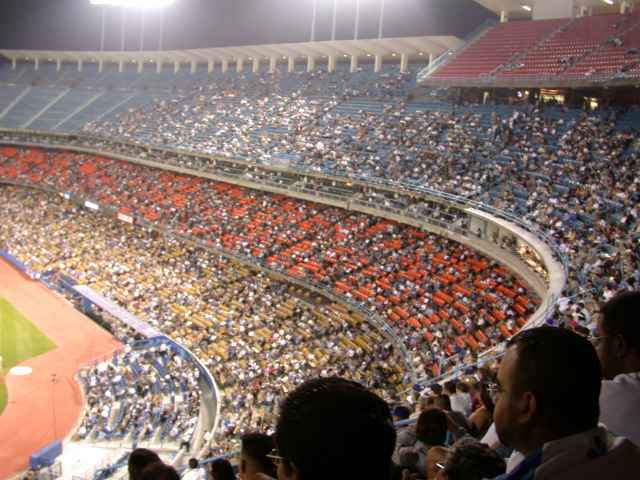 This is the right-field pavilion, which I guess we could have bought all the seats in, but didn't think of it before the beginning of the season the way some people did…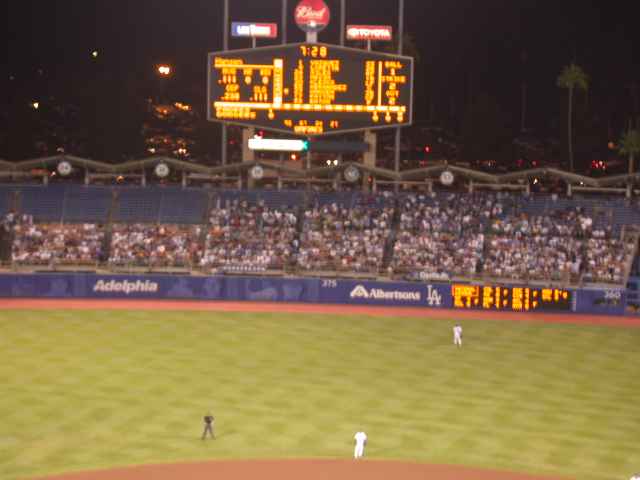 Jason had a big bowl of nachos and a big drink…
The final line (the Dodgers didn't do much)…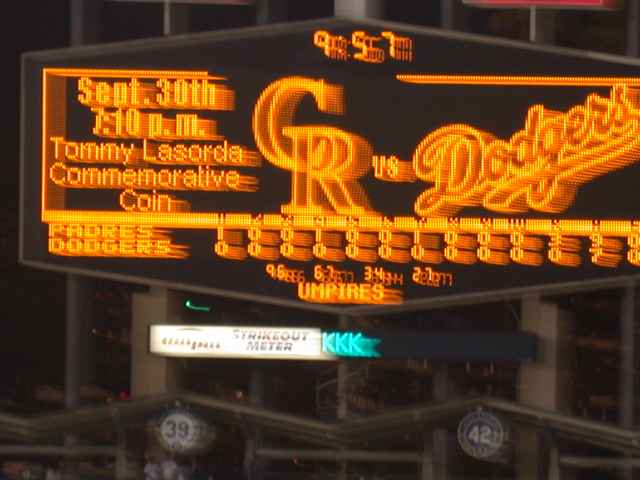 Slightly less blurry, the final score…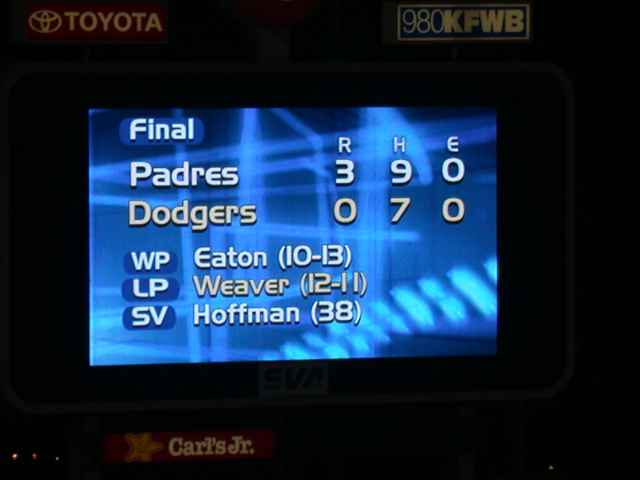 An artistic shot of the Los Angeles skyline on the way out…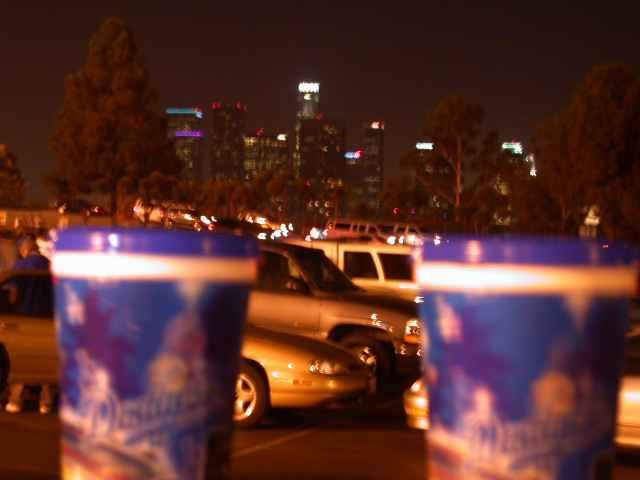 Sunset Boulevard: not just a movie starring Gloria Swanson, it's also a Dodger Stadium parking lot exit…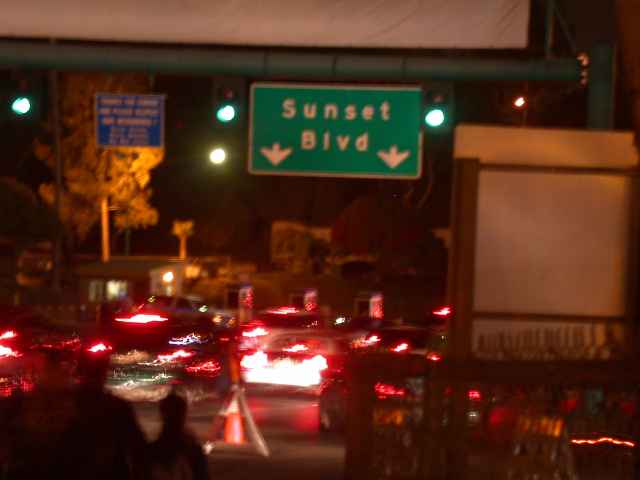 Three days later, Jason and I went to Angel Stadium of Anaheim, or whatever it's really called now, to see the Angels play the Rangers.
Jason wanted to say hi to the mummified body of Gene Autry…
Then he had another big bowl of nachos (I assume that's sour cream on top and not icing)…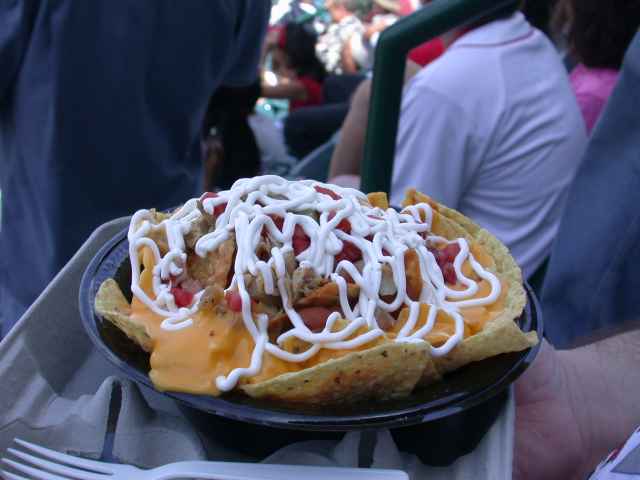 And a soda in a magical color-changing plastic cup (red, or at least pink, when full; clear when empty)…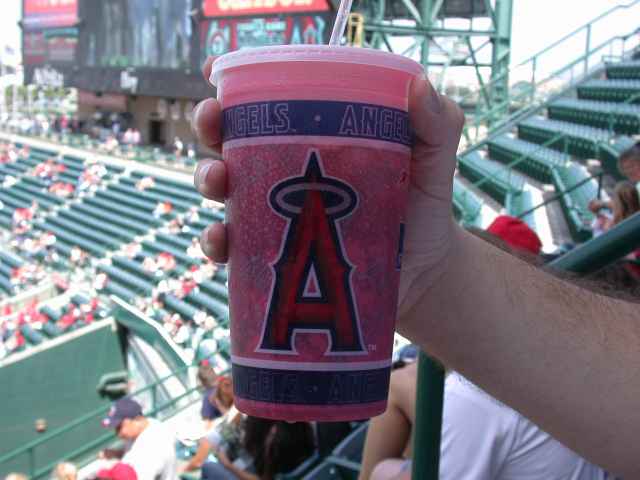 During the game, a train stopped at the Anaheim station, across the parking lot. Unfortunately, the Amtrak schedule is not well-suited for taking train trips to Angels games…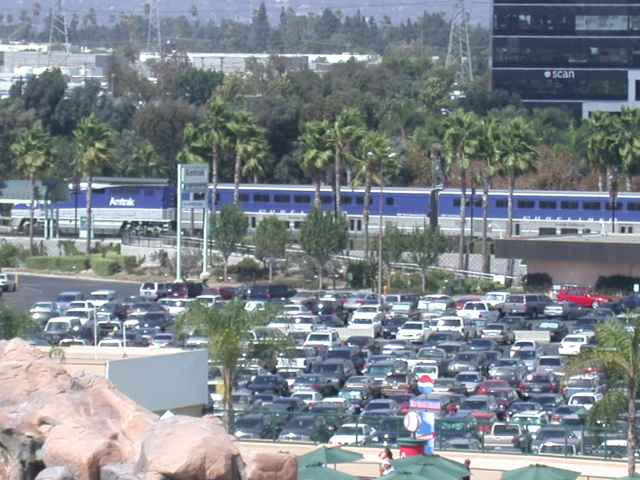 Not only can you see trains from the stadium, you can also see the Matterhorn at Disneyland, which I've pointed out with the red arrow in this picture…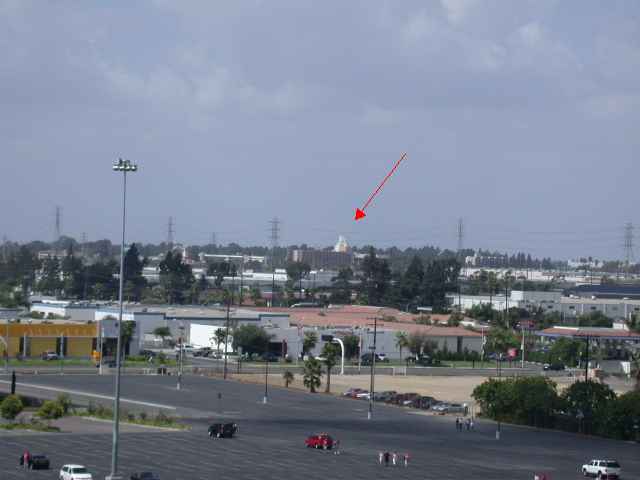 Yes, the Angels have some retired numbers…
They also have some fake rocks and real water…
The end of the rows of seats have an Angels logo on a raised baseball-diamond shape. They're covering what's actually molded into the seats: an Edison International logo on a baseball diamond…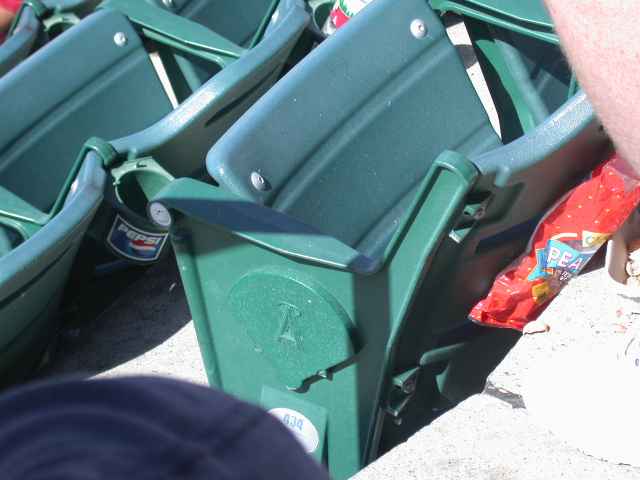 Now that they're not owned by Disney anymore, the Angels are free to get some other family entertainment spots as their sponsors…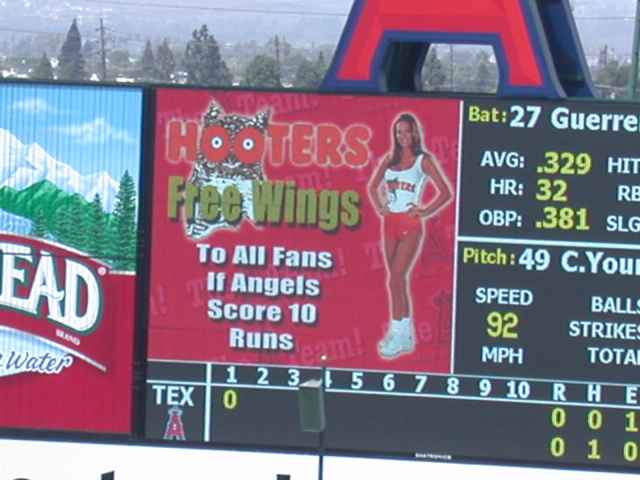 And other family-oriented sponsors…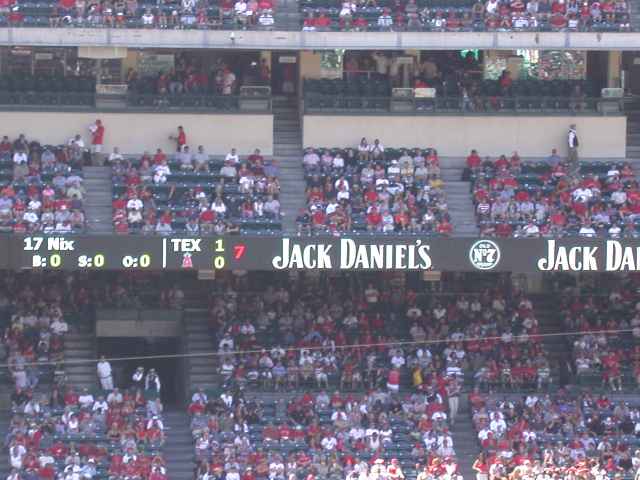 They still make some of the ushers go out on the field for the seventh-inning stretch, but now they have to take off their straw hats for "God Bless America"…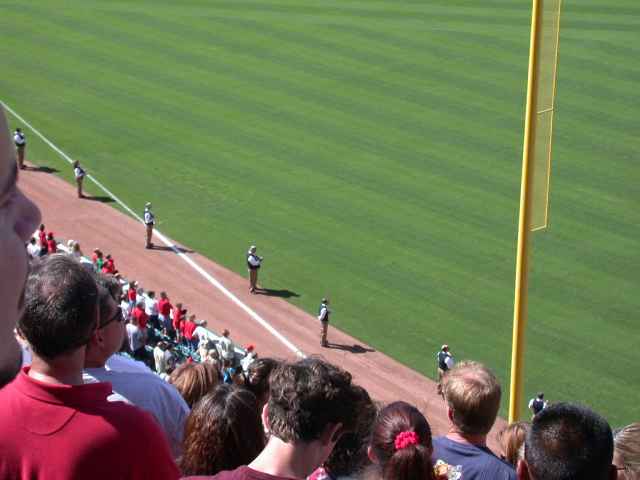 And put their hats back on for "Take Me Out to the Ball Game" (which, at this game, was sung by the same woman who had just done "God Bless America," I guess because they figured as long as she was on the field with a microphone, she might as well)…
Meanwhile, during most of this, Rangers rookie pitcher Chris Young was on the mound being tall…
Which means it was time to break out, yes, the Rally Monkey!…
Didn't work, and what is probably my last game of the season ends just as my first game of the season did, with a win by the visiting Texas Rangers…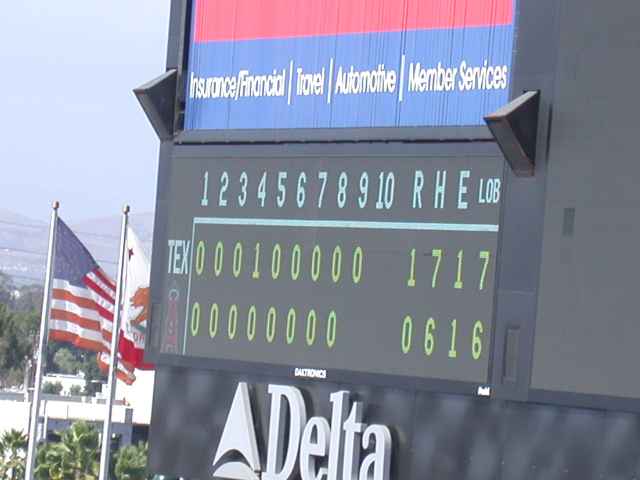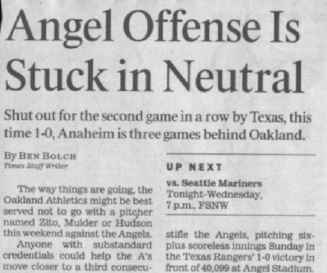 Original comments…
Jon Solomon: Chris Young is a friend of mine from when he played basketball (and baseball) at Princeton. I got to go to Fenway as a member of "the media" a few weeks ago to cover his first MLB win. They let me go on the field, in the locker room and everything. What were the Red Sox thinking? I've got an interview with Chris from after the game up on princetonbasketball.com. If you want a password to listen, just let me know.
Jason: I suggested stopping by the Hooters of Anaheim after the game. However, Jim declined, since he was TiVo-ing the Bucs-Seahawks game and didn't want to know the score.
But when I got home, I did drink a quart of Jack Daniels.
Jim: Hmm, what a coincidence. But in my case, I needed it to help me forget the Bucs-Seahawks game.