1) While the universe remains a strange and complicated place, one tiny corner of it settled down a bit last weekend, as Mets relief pitcher Lino Urdaneta retired the first batter he faced in his first appearance of the year–thus instantly lowering his ERA from infinity to 162.00. To that point, Urdaneta's career had consisted of one appearance in 2004, for the Tigers, during which he'd faced six batters and allowed them all to reach base. After five hits and a walk, which resulted in six earned runs, Urdaneta was pulled from the game. His ERA remained mind-bending for the next two seasons as he battled elbow injuries and visa problems, but by the
end of Sunday's game, it had plummeted to a mere 81.00. Now it's all the way to 63.00 and falling. 2) Baseball is best when played with between 16 and 20 players. But as any kid can tell you, it's frequently difficult to find that many players. When Matt and I were kids, we played a version of baseball with Kenny and Jeff Busch that was modified for four players. It was a different game, with much more playing the outfield and much less baserunning, but it still resembled baseball.
My nephew and I usually just play catch when we get together in good weather. But recently, wanting to give hitting a try, we decided to employ the services of my parents' dog, Josie, as a roving fielder. It worked reasonably well, but we hadn't played long before one of the reasons dogs aren't part of major league baseball was brought home to me–and my shoes: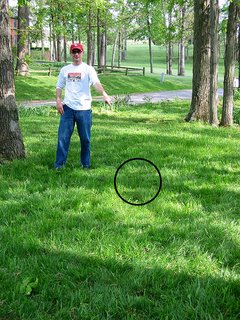 Josie is very nice, but Snoopy she ain't.