Back in the olden days, before they had cast members of "Desperate Housewives" on the cover every other week, TV Guide always contained a lot of ads for local TV stations. This is because they would trade out advertising space in the magazine in exchange for the stations running commercials for TV Guide.
This is the best baseball-related local TV Guide ad I've found in my collection; it's from Saturday, May 18, 1968, and is the work of WJIM-TV in Lansing, Michigan, which is now called WLNS.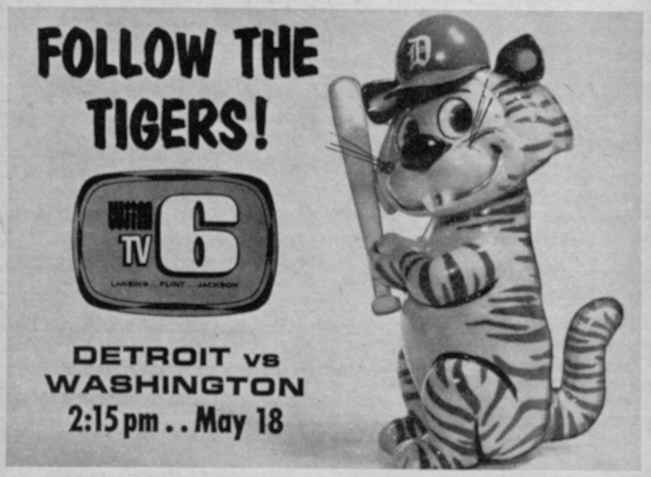 Channel 6 viewers that day saw the Senators beat the Tigers. Just a bump in the road for Detroit, though, on their way to winning the pennant and the World Series.
Original comments…
Jason: I can't tell…is that a bobblehead or a figurine? Either way, it would be a great giveaway this season!
Jim: I'm pretty sure it's a figurine, because it looks like the bat is attached both to the paws and the head, which would make it hard for the head to bobble. But remind me next time you're going to be in my apartment, and I'll let you take a closer look at this TV Guide ad.
Jason: Well, I actually looked up on eBay, but this was the only Detroit Tigers figurine they had:
http://cgi.ebay.com/ws/eBayISAPI.dll?ViewItem&category=25136&item=5161759737&rd=1&ssPageName=WDVW