2:00 — Unfortunately, there are only two games going on right now. Or maybe it's fortunate, so I can follow each one better.
2:06 — So if there exists a baseball-themed ad for Esurance.com, why did I see their basketball-themed ad several times already today during other baseball games?
2:15 — DirecTV is offering a fight on Saturday night on pay-per-view for $24.95, "or," as the announcer says, "as part of your regular Showtime subscription." Showtime is $12 per month, with only a one-month-at-a-time commitment.
2:19 — The Aflac trivia question on NESN is "Other than Schilling, Martinez, and Clemens, who was the last Sox pitcher with back-to-back Opening Day starts?" If you have to qualify it that much, perhaps you should find another way to ask the question, or perhaps you should ask a different question.
2:20 — You can tell it's a little windy in Kansas City when the fountain water gets blown into the shot from the centerfield cameras.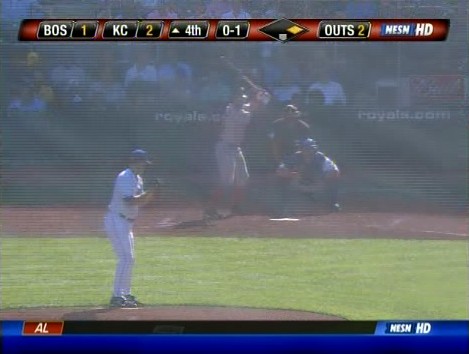 2:23 — Hey, it's a pinball-themed Pepsi commercial, which makes me want to play pinball more than it makes me want to drink Pepsi.
2:26 — I happen to see on the ESPN ticker that the Tribune Company is going to be getting rid of the Cubs at the end of the season. So let me be the first to predict a World Series victory in 2008. Yes, for the 100th anniversary of the last one.
2:30 — The answer to that trivia question is Dennis Eckersley, who pitched on back-to-back Opening Days in 1982 and 1983 — actually, he was the Opening Day starter from 1979 through 1983.
2:34 — NESN's score bar is bugging me because the number of outs isn't right next to the inning count. As far as I'm concerned, the number of outs is very closely related to the inning count. Compare ESPN's version, which is better.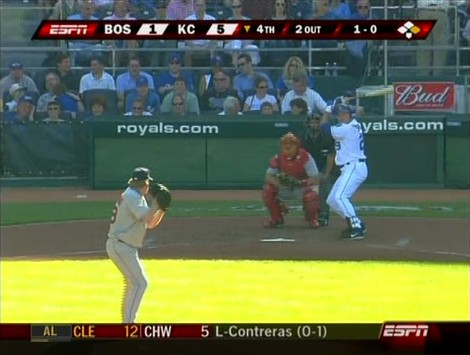 You can also see the batter a lot better on ESPN, at the cost of the grass looking really, really bright.
2:49 — Eric Byrnes of the Diamondbacks makes a throw from right field with such force that he winds up doing a somersault. It's very impressive.
2:54 — Apparently, the fountains at Kaufmann Stadium were "worked on" over the winter, so it's no wonder they're getting in the way of the camera shots.
2:59 — Southwest Airlines has new nonstop service from Denver to Tampa starting in May. Except they say "Tampa Bay" in the commercial, which would seem to indicate that they're using a floatplane, given that Tampa Bay is a body of water. I think I complained about this last year, but this time I have a screenshot as evidence.