4:00 — Baltimore Orioles at Minnesota Twins (ESPN and WFTC)
Pittsburgh Pirates at Houston Astros (FSN Houston)
4:01 — Extra Innings is carrying an over-the-air game broadcast, something I haven't seen before on DirecTV. I guess the ability to do this is part of their new contract. It's from "My 29" — well, not really mine, because it's WFTC in Minneapolis/St. Paul and KFTC in Bemidji.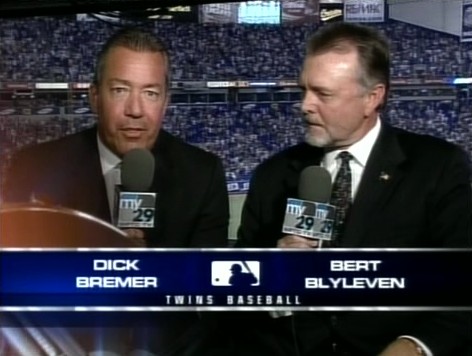 4:03 — They do a nice little tribute to Herb Carneal at the beginning of the Twins broadcast. I have to admit that he's someone who was never really on my radar.
4:05 — I'm getting a little tired of "Magic Carpet Ride," which is the music being played during a Chevrolet ad that's been running a lot today. But I guess the members of Steppenwolf aren't getting tired of cashing their royalty checks.
4:10 — The Orioles haven't opened a season on the road since 1977.
4:12 — The Rockies are down 8-6 going into the bottom of the 9th, but anything can happen. 3 out of 4 Opening Day games previously played at Coors Field ended with a walk-off home run.
4:20 — An ad read by the Rockies announcers goes, in its entirety, "Hey, if you have a crack in your windshield, call Elite Glass, number one for more than one reason." This makes the broadcast interactive, since it allows the audience to speculate endlessly about what those reasons might be.
4:24 — True, anything could have happened, from a walk-off home run to a "Buffy the Vampire Slayer"-type magical transformation causing the person in the mascot costume to turn into an actual small purple triceratops. But what actually happens in the bottom of the 9th is a double followed by three straight strikeouts. The new red uniforms worked for the D-Backs!
4:36 — Forget C.C. Sabathia. Kent Hrbek is looking a little large now that he's retired.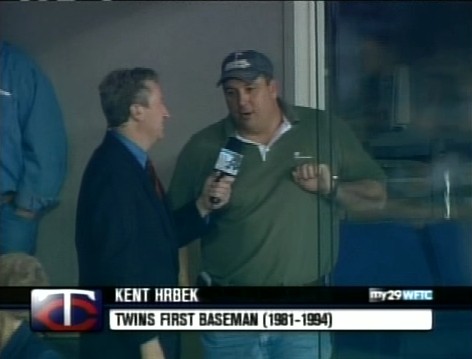 4:37 — However, while Kent Hrbek is being interviewed, the Twins hit back-to-back home runs. So whatever he's doing, it's working.
4:40 — Very sad that the Menards guy isn't in Menards commercials anymore. At least they haven't turned him into a computer-animated character who appears at the end of the commercial as they've done with the Empire Carpet guy.
4:52 — Shannon Stewart of the A's certainly looks different than he did when he was Playboy's Playmate of the Month for June 2000 (relatively work-safe link to Wikipedia).