Honorary hanger-on Jason Kaifesh called me Sunday afternoon and asked if I wanted to go to a minor-league game. Of course I said yes. The California League-leading Lancaster Jethawks were playing the Inland Empire 66ers (San Bernardino) in a game with a strange 6:00 start time, perhaps because the temperature can get quite high up in the Antelope Valley. First, the best of my attempts at an action shot. Note the ball seemingly frozen…
Since Lancaster is near Edwards Air Force Base, they have two space shuttles on either side of the message board, albeit space shuttles that look more like NASCAR vehicles, with the advertising. Hmm, didn't the idea of having NASA raise money by selling advertising space come up at some point during the Reagan administration?…
Speaking of which, note the flags, and the fact that the wind was blowing very strong towards right field throughout the game, although there was only one home run hit in that direction (quite a few fly balls to the warning track, though). Is there some kind of mailing list you can subscribe to, if you have a flagpole, to let you know when you're supposed to have your flags at half-mast?…
This being the minor leagues, they let a kid race the mascot around the bases while the game is in progress (I mean, between innings, but still…). I can provide witnesses to corroborate the fact that Kaboom the Jethawk took a dive, by the way, in case any federal prosecutors interested in a RICO case are reading this…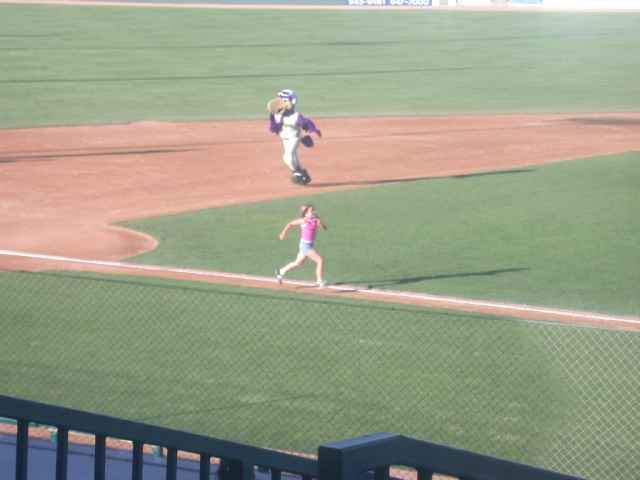 Lancaster Municipal Stadium, a.k.a. The Hangar, is fairly new, which means they have a manual scoreboard. Yes, that is a ridiculous contradiction, but we live in ridiculous times. At least the manual scoreboard's numbers are readable (when they remember to put them up), unlike certain electrically-operated numbers that are hard to read when the sun is shining directly on them and a third of the light bulbs are burned out…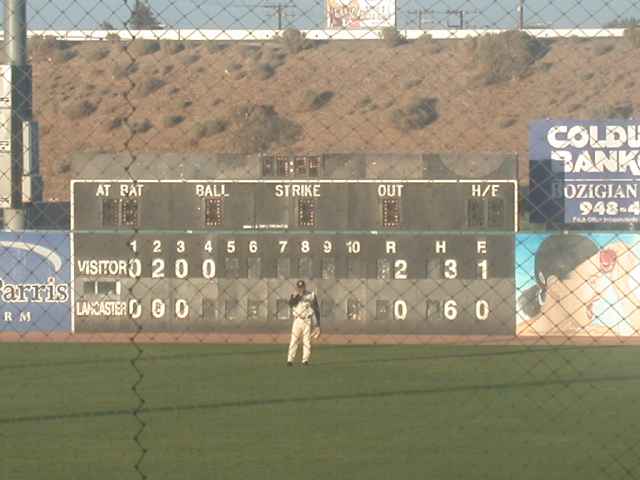 Final score: 66ers 7, Jethawks 3. One of the best things about the game, by the way, was the noise the crowd made when the P.A. announcer announced that the Lakers had lost Game 1 of the finals to the Detroit Pistons. It was the noise of several thousand people simultaneously making a noise that meant, "But the local media has been leading us to believe that the Lakers are the team of destiny for months now!" I know, I know, that's not really baseball-related.
Now I'm headed to Vegas for a few days. Unfortunately, the Las Vegas 51's won't be in town while I'm there, so I guess I'll have to find something to do other than watching minor-league baseball.
Original comments…
Levi: I'm surprised, Jim, to see you refer to the flag as being at half-staff.
As this site shows, lowered flags on ships are at half-mast, but lowered flags on land are at half-staff.
There recently was a story in the Tribune about a woman who contacted the head office of McDonald's to inform them that they were not, by flag codes, allowed to lower the flags at their restaurants in tribute to their CEO, who had died suddenly. According to her, a government directive had to go out. She was backed up by the reporter and by a government official, whose name and position I've forgotten.
Anyway, it's the first I'd heard about it. Anyone know anything more about these rules?
And were the flags down for Reagan, or for the Lakers?