First and most importantly, I have solved a mystery that has been puzzling Levi ever since last July, regarding the end of a certain White Sox-Devil Rays game, captured by Levi's TiVo and replayed endlessly. The question was, what was the deal with the Devil Rays mascot, Pansy the Wuss-Wuss Fish Who Can't Keep It Up (a.k.a. Raymond), when he was jumping around with the players?
The answer is that if the Rays are behind, he spends the bottom of the ninth standing around on top of the visitors' dugout, dressed in a black shirt and mask, "disguised" as Rally Ray. Unfortunately, I was unable to get a good picture of him as he was unsuccessfully attempting to work his mojo against the Rangers on Tuesday night: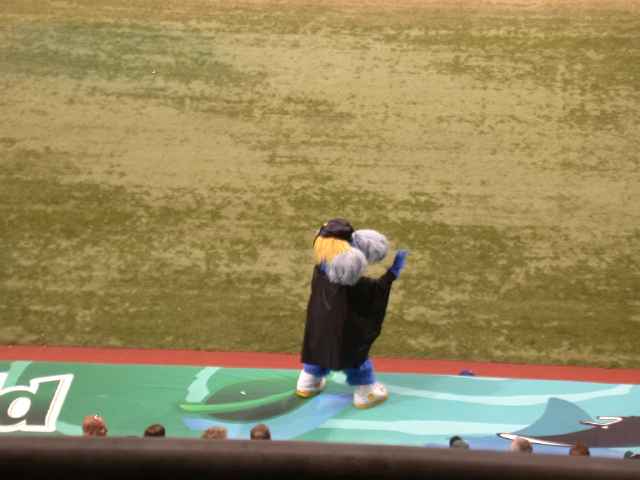 And now, more pictures: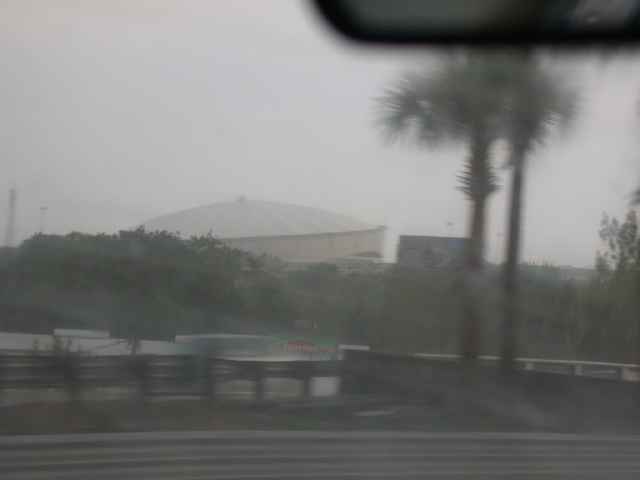 Tropicana Field, as seen from the Interstate. It's hard to tell, but we were driving through a sudden, very brief cloudburst at this point, approximately 6:40 P.M., and that's why the city of St. Petersburg built a dome in the late 1980s.

The view from my seat, on the club level. I have to admit that this would be a very nice stadium if not for the permanent roof.

Plenty of good seats available. The official attendance was 10,389, but there were probably fewer than 7,000 people actually at the game. This is what happens when a team has lost its last five games and 12 out of its last 14, and plays a Tuesday night game against a team other than the Yankees or Red Sox, and doesn't give away some sort of promotional item. They did not play Guess the Attendance on the scoreboard.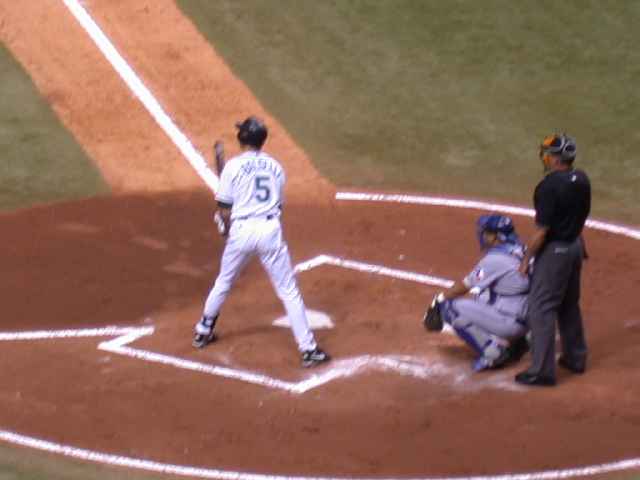 Maura's favorite player!

The final line.

Headline in the Tampa Tribune.

Headline in the Dallas Morning News (it was a coincidence that I was changing planes not too far away from The Ballpark at Arlington…excuse me, Ameriquest Field).

Unfortunately, although the Lowry Park Zoo in Tampa has a "please touch" ray pond, since they're all the rage these days, they haven't labeled which ones are the devil rays. (Insert your own joke here, or better yet, in the comments.)
Original comments…
maura: haha, i was totally going to ask you where the picture of rocco was!! nice work, my friend, nice work. have you been to other roofed parks ever? i have never seen a baseball game indoors, and man people i know sure hate tropicana field.
maura: i am really sad about the rays this season, too, but i think i've mentioned that. sigh
Levi: I've been to a game at the Metrodome, with Stacey and Sarah Meisch and Dan Rivkin and Baggarly. We all kind of enjoyed it, although it was weird. The worst part was leaving a 65-degree sunny day to enter a 65-degree fluorescent-lit dome.
Steve: As much as I'm glad Jim was able to enjoy a trip home, (and catch an AL game in a dome) his attention to detail makes a strong case that baseball could use some contraction.
Jim: Nah, I'd have the same attention to detail even if the AL still had only eight teams. But it'll all be worth it if I get on "Super Millionaire."
Steve: I hear you on that super millionare. Will you be my phone a friend if I make it? I don't like the new "jury" lifeline. Even though they should be super brainy, I don't trust them. They are there at the producers behest no?